Welcome to our "From Bark to Bottle™" cork forest Eco-tour page. Partnering with the highly respected ecotourism company, Two Birds – One Stone, we are proud to offer this extraordinary ecotourism experience through the cork territories of Spain.

Our mission for this Eco-tour is to provide each traveler the experience of discovering the world of cork through the forests, the unique natural biodiversity they host, their remarkable cultural and gastronomic heritage, including incredible wine and foods. But most importantly, the extraordinary people whose lives are woven into the fabric that is cork.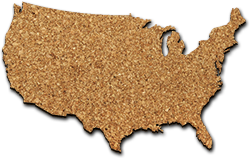 For 11 days we travel across Spain, "off the beaten track." Following the cork trail, we will visit three of Spain's major cork producing regions, Extremadura, Andalusia and Catalonia. In each of these remarkable territories we will experience different topographies, the savanna-like dehesas in Extremadura, the steep crags of Andalusia and the dense moss-covered forests of Catalonia.
On our journey, we will experience the beauty of three UNESCO cities, Cáceres, Seville and Mérida. In each city we have an expert local guide take us on walking tours of each city's cultural and architectural treasures.
The accommodations will range from highly rated hotels located in remodeled medieval buildings to exceptional
casas de campo
(country estates) in the heart of the cork forests.
The dining experiences will range from al aire libre (lunch in the cork forests) to intimate dinners in small, family owned restaurants. Visits to artisanal wine, cheese and jamon producers will round out the gastronomic portion of our journey.
In keeping with our commitment to providing a genuine Eco-tour, for the cork forests as well as our travelers we have limited the tour to a minimum of 8 travelers and a maximum of 10.

Due to logistical problems, beyond our control, at this time there are no tour dates scheduled for 2019-20. We are sorry for any inconvenience. 
        There are no 2019-20 Tour Dates.